RELAXED AND FUN warehouse wedding at 92 burton road in Sheffield
Sheffield has always been my home away from home, since my cousin went to University there it's always held a special place in my heart. When Hannah and Luke got in touch and told me their wedding reception was at 92 Burton Road I was so excited, it's perfect urban venue for the fun and foodie wedding they had planned.
"Working with you SO easy, you're clearly invested in the work that you do and it shows in the results! You have such a knack for framing shots and capturing the moment"
This wedding was so full of love and joy with so many people around them celebrating. From bridesmaids singing Spice Girls on my arrival to the best man doing the most amazing rendition of 'Walking in Memphis ' during the ceremony with some pretty epic dance moves to boot, post ceremony dancing down the aisle to 'We Are Family', singing was in abundance and I found myself bopping along all day. After the ceremony Pimm's and cake was to be had with a jazz band providing yet more music. Along with plenty of lawn games, Jenga, table tennis and……rock climbing. Being the height of the summer heat wave many guests relaxed on the grass (some may or may not have had a snooze) before ALL THE CONFETTI and heading to 92 Burton Road for the reception.
The warehouse venue was full of wonderful foliage, lush succulents as wedding favours and decked out with rustic benches and long tables which really complemented the existing industrial decor and art. After some of the most delicious sharing platters I have ever eaten (thanks to Annika's Kitchen) it was speech time. I think everyone laughed and cried through Luke and Hannah's speech. With nearly 300 joining them come party time, it was one wild dance floor. The band Papamengo were the couples friends from London and they were awesome, playing classic hits along with Carribean music. Luke's Granny wins at the dance floor.
Scroll down to see what the couple had to say about their relaxed Sheffield wedding.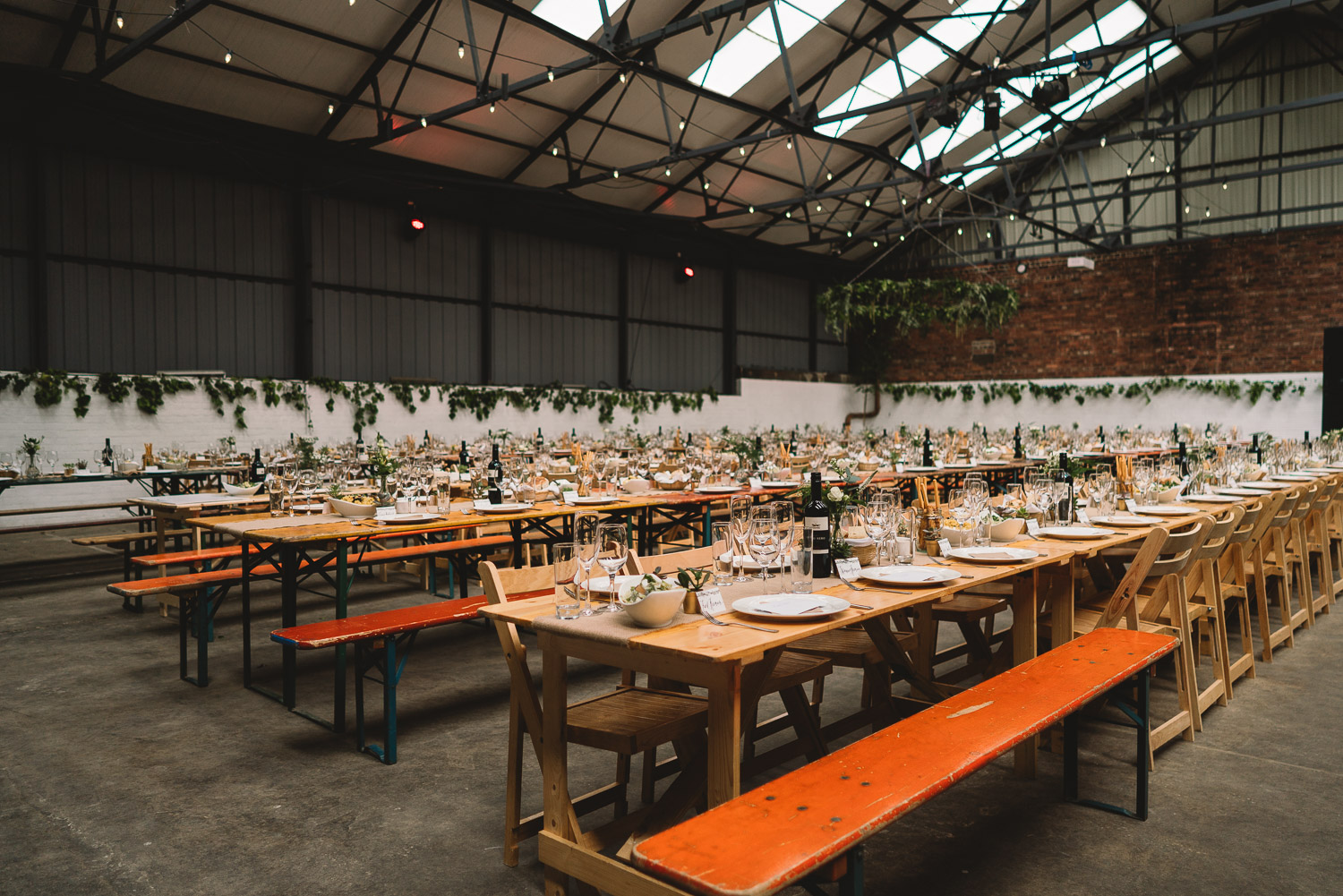 How did you meet?
Luke: We were set up by Mum - friend of sister meet my eligible son....locked in the kitchen together, the rest is history.
Tell me about the proposal:
Hannah: Luke surprised me by flying back from Australia after 3 months and taking her out to Lake Bled, Slovenia, to propose at sunset on top of a mountain overlooking the lake
How did you plan your wedding?
We squeezed the planning into 6 months. Lots of laborious admin in the process but enjoyed choosing people to help with roles and showing them how much we valued them. Getting key people on board was a highlight.
What made you choose your wedding venues St Marys Church and 92 Burton Road in Sheffield?
Luke: Sheffield is where Hannah grew up, the church is where Hannah's mum is a vicar. 92 Burton Road was the only one big enough without having to drive more than 20 mins! It was also very cool and was recommended separately by Hannah's sister and my brother who had both been to events there.
What made you choose your wedding decor and styling?
'Industrial botanical chic' was the coined phrase that evolved from our natural preferences. The flowers were inspired by Hannah and her gardener of a Mother.
Tell me about your outfits!
We wanted to go for a classic/ timeless look. I think we crushed it. Luke: I also wanted to look like James Bond.
What was it like working with Kate Jackson Photography?
Working with you was very easy, you're clearly invested in the work that you do and it shows in the results. You have a knack for framing shots and capturing the moment. You also edit the shots very well, natural colours and gorgeous lighting. You are fun, amicable, reliable, flexible, and very good at taking pictures!
Did you have any special music during your wedding?
Yes! 'The Book of Love', Peter Gabriel for signing of the register (as seen in the last episode of scrubs)
Walking in Memphis sung by my brother because he nails it every time.
'We are Family'out the church obvious reasons
'I wanna dance with somebody' as our first dance for obvious reasons!
If you could give one piece of advice to another couple planning their wedding what would it be?
Minutia is boring. Make sure everyone will have fun and you'll have loads of fun. Fun is more important than decoration.
SHEFFIELD WEDDING SUPPLIER SHOUT OUT
Venues St Mary's Church & 92 Burton Road (Inner City Weddings and Events) in Sheffield
Super Second Shooter Hannah Webster
Brides Dress Rosa Clara
Hair + Makeup Kerena Sheath
Bridesmaid dresses & Other Stories
Grooms Suit Moss Bros
Flowers Moss & Clover Kelham
Band At church: Chasher Quartet. Evening: Papamengo
Cake DIY (made by Luke's Granny!)
Caterer Annikas Kitchen
Planning your 92 Burton Road warehouse wedding? I'd love to chat to you!
Kate Jackson is an alternative wedding photographer based in Birmingham in the West Midlands. Specialising in fun and vibrant storytelling photography. Sheffield + UK wide wedding photographer.